Ferrara Musica al Ridotto
Ferrara Musica al Ridotto is back! This concert series will last for the whole 2021/2022 season, and is curated by Conservatorio Frescobaldi and Orchestra Città di Ferrara.
The first part of the series (October 2021 – January 2022) includes many piano recitals, part of PianoDuo Festival, featuring students and professors from Conservatorio Frescobaldi.
Tickets are available online and at our ticket office (prices: € 3 standard, € 1 concessions). For more information please contact biglietteria@ferraramusica.it.
Download the full programme (IT only)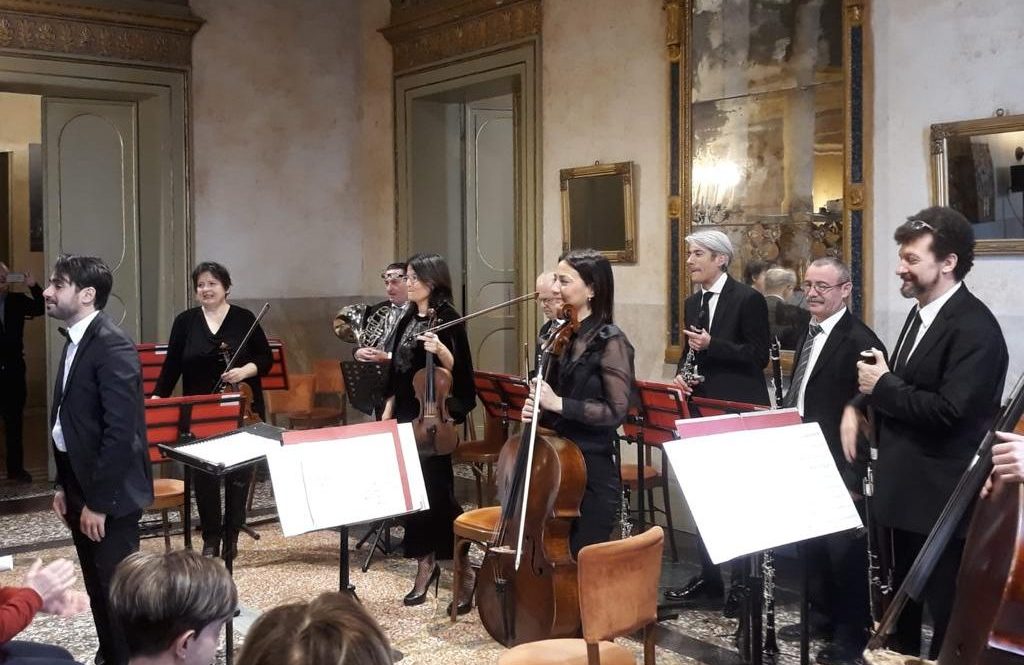 CALENDAR
9 OCTOBER – 5pm*
Masterclass di Musica da Camera di François Guye
Final concert
24 OCTOBER – 10.30am*
PianoDuo Festival 2021
Valerio Cacciari/Mario Merola, two pianos
Giancarlo Bonfiglioli/Cosmè Umberto Zuffi, two pianos
Mozart Concerti K. 413 and 491
Beethoven Concerto no. 3
30 OCTOBER – 5pm*
PianoDuo Festival 2021
Federica Righini/Riccardo Zadra, piano four hands
music by Hahn, Tansman, Debussy, Ravel
31 OCTOBER – 10.30am
I Solisti dell'Orchestra Città di Ferrara
Schubert Octet
6 NOVEMBER – 5pm*
PianoDuo Festival 2021
Gloria Reimer/Sara Ferrandino, piano four hands
Prokof'ev/Pletnev Suite from Cinderella
Prokof'ev/Ancelle Suite from Romeo and Juliet
14 NOVEMBER – 10.30am*
PianoDuo Festival 2021
Anna Govoni/Fernando Scafati, two pianos
Zhenbo Ye/Roberto Russo, two pianos
Marco Merola/Valerio Cacciari, two pianos
Mozart Concerti K. 414, K. 467, K. 466
21 NOVEMBER – 10.30am*
PianoDuo Festival 2021
Giovanni Bergamasco/Carlo Bergamasco, two pianos
Zhen Jie Ye/Fernando Scafati, two pianos
Mozart Concerto K. 488
Beethoven Concerto no. 4
28 NOVEMBER – 10.30am*
Progetto Bach/Shostakovich
Preludes and Fugues played by students from Conservatorio Frescobaldi
12 DECEMBER – 10.30am*
Progetto Bach/Shostakovich
Preludes and Fugues played by students from Conservatorio Frescobaldi
19 DECEMBER – 10.30am
I Solisti dell'Orchestra Città di Ferrara
music by Stravinsky, Poulenc and others
16 JANUARY – 10.30am
I Solisti dell'Orchestra Città di Ferrara
music by Stravinsky, Poulenc and others
*Concerts organised by Conservatorio Frescobaldi Ferrara